Editor's note: A new story has been filed to reflect the new death toll. Find the most updated information here:
El Paso shooting death toll rises to 22 as victims succumb to injuries
Police say 20 people were killed and 26 were wounded after a mass shooting in El Paso, Texas, on Saturday.
According to El Paso Police Dept. Chief Greg Allen, a male suspect from Allen, Texas, is in custody.
Two law enforcement officials who spoke to the Associated Press on the condition of anonymity identified the suspect as 21-year-old Patrick Crusius.
According to a CNN report, three sources confirmed Crusius as the suspected gunman.
WATCH: 'Active shooter': Police respond to El Paso shooting
"Needless to say, the scene is a horrific one," Allen said. "Unfortunately, because of the nature of the situation, the scene will be in play for a long period."
"But right now we are looking at potential capital murder charges for this individual," he said.
READ MORE:
California garlic festival gunman was 'kind of a loner': FBI
The FBI and other federal authorities have been called in to assist with the ongoing investigation.
WATCH: Police have manifesto from El Paso shooter, indicates potential nexus to hate crime
Representatives from Del Sol medical centre in El Paso delivered a press conference Sunday morning to reveal the state of the 11 victims the hospital received the day earlier. According to Dr. Stephen Flaherty, at least one of those injured would be discharged on Sunday, while others may be discharged later on in the week.
He appealed to the public for blood donations for the victims, and emphasized that the need for blood will continue throughout the week as they continue to receive treatment.
Allen said authorities are also looking into a manifesto that indicated a potential connection to a hate crime, to determine if it belonged to the suspected gunman.
Officers received reports of an active shooter just after 10:30 a.m., first at a Walmart, then at Cielo Vista Mall. A spokesperson for the mall later said that a shooting did not take place there.
WATCH: El Paso as families reunite at reunification centre, hospitals
Kianna Long and her husband were at the Walmart when shots rang out.
"People were panicking and running, saying that there was a shooter," Long told Reuters. "They were running close to the floor, people were dropping on the floor."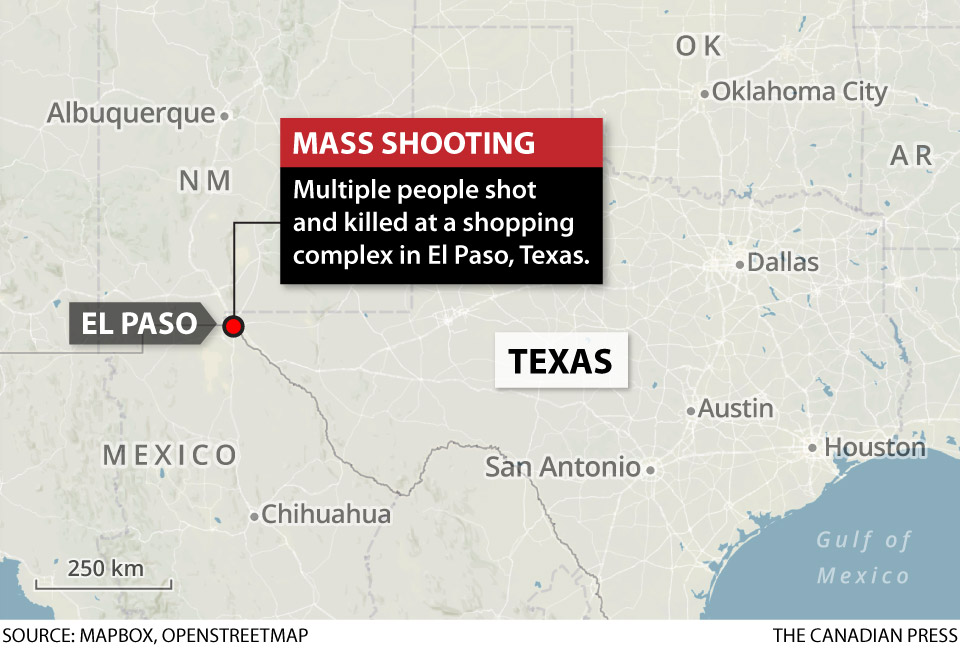 The alleged shooter was taken into custody without incident, Allen said.
He is believed to be the sole suspect.
WATCH: El Paso Police cannot confirm weapon put on social media belonged to shooter
The motivation of the shooter, who used a rifle according to initial reports, is under investigation.
A family reunification centre has been set up at a local middle school.
The New York Police Department Counterterrorism Bureau said it was monitoring the shooting, and additional units have been sent to shopping centres in an abundance of caution.
READ MORE:
Calls for improved event safety plans grow in wake of garlic festival shooting
In a tweet posted Saturday evening, U.S. President Donald Trump called the shooting "tragic" and said it was an "act of cowardice."
https://twitter.com/realDonaldTrump/status/1157825761941819392
"I know that I stand with everyone in this Country to condemn today's hateful act," he wrote. "There are no reasons to justify killing innocent people."
Earlier on Saturday, Trump tweeted that his government was working with authorities in Texas.
Terrible shootings in ElPaso, Texas. Reports are very bad, many killed. Working with State and Local authorities, and Law Enforcement. Spoke to Governor to pledge total support of Federal Government. God be with you all!

— Donald J. Trump (@realDonaldTrump) August 3, 2019
While police have not released any details about the victims of the shooting, Mexican President Andres Manuel Lopez Obrador said among those killed were three people from Mexico.
Mexico's foreign minister said another six people from Mexico were injured as a result of the incident.
"I send my condolences to the families of the victims, both American and Mexican," Lopez Obrador said in a tweet posted Saturday.
Democratic presidential candidate and former Texas Rep. Beto O'Rourke asked "for everyone's strength for El Paso right now. Everyone's resolve to make sure that this does not continue to happen in this country."
READ MORE:
Young man identified as gunman at California garlic festival
Democratic Texas Rep. Veronica Escobar said she was "utterly heartbroken by the developing news in El Paso."
"Monitoring the situation and in communication with our law enforcement. Please stay safe," she tweeted shortly after the news broke.
WATCH: Multiple deaths reported after shooting spree at Texas Walmart

Texas's Republican Gov. Greg Abbott called the shooting a "senseless act of violence" and said the state would work to ensure the perpetrator faces justice.
Statement on shooting in El Paso: pic.twitter.com/hsCXYGNLGg

— Gov. Greg Abbott (@GovAbbott) August 3, 2019
El Paso Mayor Dee Margo said he and his wife were devastated by the attack.
"Our hearts go out to the victims and gratitude to our first responders," he said.
Adair and I are devastated by the tragic events unfolding in our City. Our hearts go out to the victims and gratitude to our first responders. We will continue to keep you updated. pic.twitter.com/AKzgwtVWgs

— Mayor Dee Margo (@mayor_margo) August 3, 2019
Walmart said it is "in shock over the tragic events."
"We're praying for the victims, the community and our associates, as well as the first responders," the company said in a statement. "We're working closely with law enforcement and will update as appropriate."
Horrible news from El Paso today. Canadians are grieving with our American neighbours and friends for the lives that were senselessly taken, and wishing all those injured a speedy recovery.

— Justin Trudeau (@JustinTrudeau) August 3, 2019
"Horrible news from El Paso today," Prime Minister Justin Trudeau said in a tweet posted Saturday afternoon.
"Canadians are grieving with our American neighbours and friends for the lives that were senselessly taken and wishing all those injured a speedy recovery," he wrote.
WATCH: Victims of El Paso shooting arrive at hospital
The mall complex is near Interstate 10 on El Paso's east side. The city is located in west Texas on the border with Mexico.
–With files from the Associated Press and Reuters
© 2019 Global News, a division of Corus Entertainment Inc.